More than 50% of hospitals in developing countries have telemedicine services. Almost 200+ existing telemedicine networks provide the feasibility to 3000+ people across rural and suburban areas.
Global telemedicine services are all set to grow at 23% in 2023. Also, 84% of medical experts agree that developing a telemedicine service is essential or necessary. 33% of experts said they changed their business models to be more adaptable to the evolving models of care, such as the use of telemedicine.
Incorporating the telemedicine service into your business is the need of the hour. Patients too hold out against such locations that are not adequately sanitized or have easy access to.
At times of an outbreak of local flu, or infectious viral, patients prefer to stay at home and get the treatment. Several patients avoid going to the clinic at first and instead call their family doctor to get the prescription.
This is a part of the telemedicine service.
Are you planning to launch your own practice? Without this modern implementation, you just can not begin with your clinic.
In this guide, we'll provide you with an elaborative explanation of telemedicine services, and brief you on how you can implement this service in your local clinic to expand the venture.
What are TeleMedicine Services?
Telemedicine is the practice of providing care to patients remotely when the provider and patient are not physically present. Doctors can now consult with patients using HIPAA-compliant video-conferencing tools thanks to advances in technology.
Telemedicine services make healthcare consultation more feasible, cost-effective, and elevate patient engagement. Also, patients that do not have the access to immediate care or any hospital nearby can get a professional consultation virtually.
Doctors have a chain of questions that each patient has to answer. Once done with that, doctors ask them about their regular activities and note information in their EHR system. They evaluate the details based on their understanding and come up with a suggestion shortly.
Patients can see a doctor for diagnosis and treatment without having to make an appointment using telemedicine software. Patients can consult a doctor from the comfort of their own homes.
Types of Telemedicine Services
There are mainly 3 types of telemedicine services. When used appropriately, they can offer tangible benefits to doctors and patients.
1. Real-time Interactive Medicine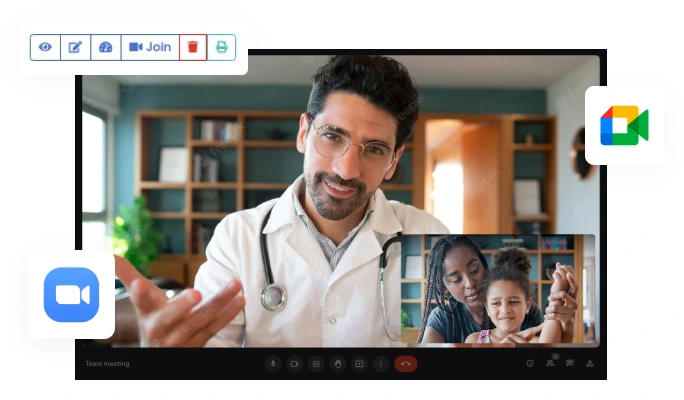 A consultation about the patient's presenting symptoms and medical history can be conducted, followed by an evaluation of their condition similar to those typically performed during face-to-face appointments in the medical setting.
Teleneuropsychology is a great example of this type of telemedicine. It includes telephone consultation and assessment with people who have or are suspected of having a cognitive disorder.
2. Store-and-forward telemedicine
It is also known as 'asynchronous telemedicine,' is a method by which healthcare providers share patient medical information such as imaging studies, lab reports, videos, and other records with a radiologist, physician, or any other relevant specialist who may be in another location.
It is similar to sending an email, but it is done through a platform with sophisticated and built-in security features to protect the patient's privacy.
Store-and-forward telemedicine is a systematic method for primary care providers, patients, and specialists to gather and analyze information gathered during the inspection at a time that is convenient for them.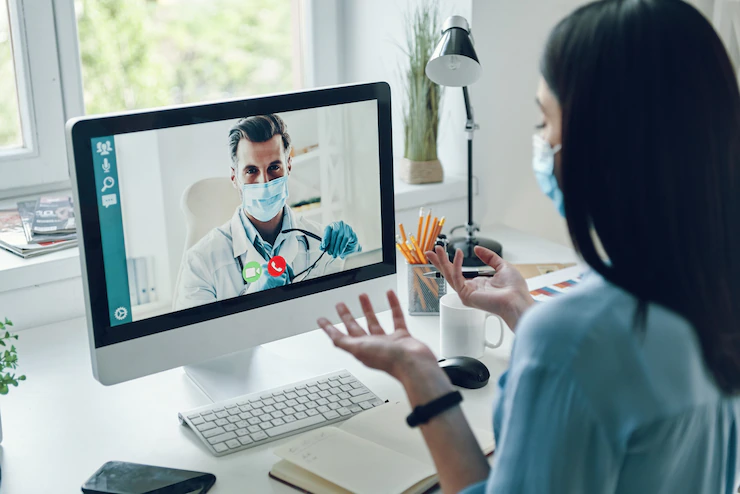 Remote patient monitoring, also known as telemonitoring, is a practice that allows healthcare professionals to remotely monitor a patient's vital signs and activities.
This type of telemedicine is frequently used for the administration of high-risk patients, such as those who have recently been discharged from the hospital or those with heart conditions or other chronic diseases.
There are numerous benefits to telemedicine services, Some of them are listed below:
1. Better Comfort and Feasibility
Whenever you're sick, you avoid going out, you avoid taking heavy effort, and prefer relief over hassle. No doubt, the first thought that comes to your mind whenever you feel a little dizzy is to take sleep or rest.
Most patients prefer telemedicine services instead of in-person appointments because they get the desired treatment in the comfort of their homes. They do not have to drive to the hospital, face infectious diseases, and stand in the queue to get consulted.
It's all easy and cozy when you are at home.
Virtual visits can be more convenient to fit into your hectic schedule. Depending on your schedule, you may not even need to take time off from work or arrange for child care with telemedicine.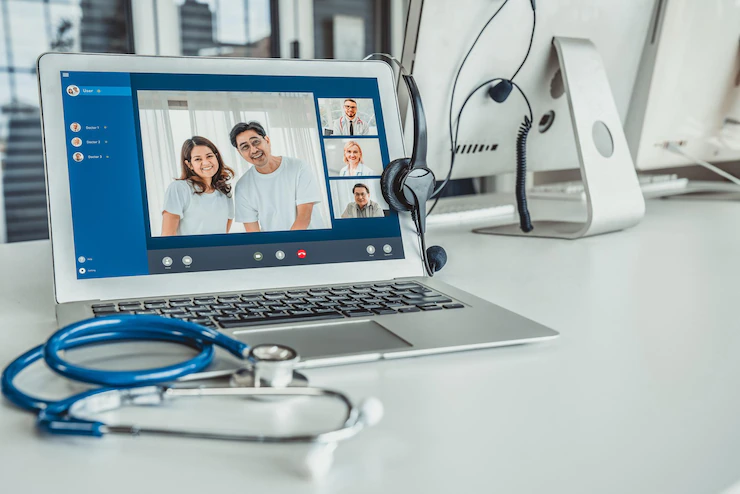 You must have had some gruesome experiences during an offline in-person visit where you wished you had stayed at home.
Also, doctors are always in a hurry to attend to as more number of patients as possible to generate better revenue. Not all doctors take time and attend to patients as calmly as possible, as they too have commitments, other responsibilities, and their own clinics.
In such cases, you will not receive the proper care that you expect, nor will you receive the better consultation that you sought.
On the other hand, when doctors attend to you virtually, they allocate proper time and store each piece of information carefully on their electronic health records.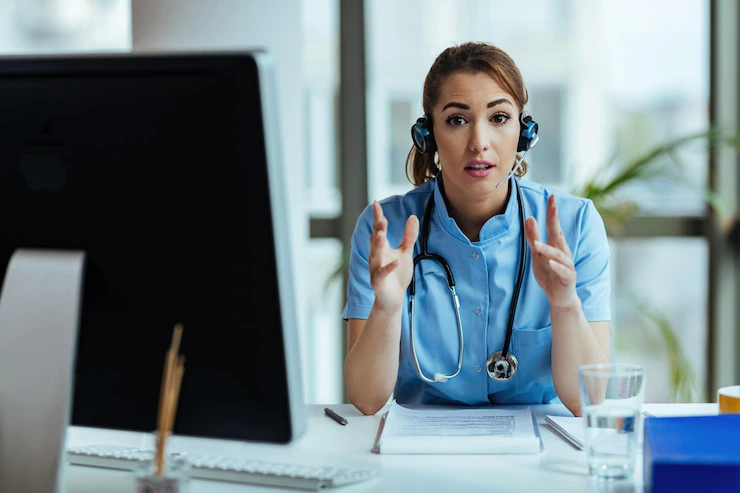 When meeting with your doctor, it's always a good idea to bring along a family member who can help you provide information, ask questions, and record your doctor's responses.
If that person lives out of town, or even across the country, telemedicine can bring them in for a virtual visit if you authorize it.
No one likes to be alone, when sick.
Pros and Cons of Telemedicine Services
Pros of Telemedicine Services
No-Risk Of Exposure To Any Contagion
More Convenient And Cost-effective Healthcare
Cons of Telemedicine Services
Not Suitable For All Treatments
Technical & Equipment Training
Not for non-tech-savvy patients
Telemedicine vs Telehealth
These terms are frequently used interchangeably and have subtle differences.
Telehealth and Telemedicine are terms that are sometimes used interchangeably. However, telehealth is used in a broader and more general sense, as it encompasses all health-related technologies and services used to provide patients with higher-quality healthcare.
Telemedicine
, on the other hand, is used in a narrow sense to refer to the use of telecommunication technologies to provide remote healthcare services such as consultation, remote diagnosis, and monitoring.
Which is the Best Telemedicine Service Provider?
KiviCare is the best telemedicine service provider for new clinic owners, and expert medical professionals.
You can launch your clinic in just 60 seconds, it is as fast as lightning to the ground!
KiviCare Complete Clinic Management Solution is the most affordable WordPress-based self-hosted clinic and patient management system. That helps you set up your online clinic quickly and start your journey at your earliest.
You can manage multiple clinics, set up online payment options, operate in multiple languages, and even assign admins and subordinates for better productivity.
KiviCare is a meticulously designed,
EHR Management System
for WordPress that comes with the best additional features.
Yes! With KiviCare's fully integrated remote patient management plugin for WordPress, you can host hassle-free video consultations on
Zoom or Google Meet (Telemed Addons)
. Choose the platform of your choice, Zoom or Google Meet; take online appointments, schedule with the respective doctor, make online payments and join at the comfort of your house.
Your patients will be notified over an email, and text message as soon as the appointment is scheduled. Also, they'll be notified once the appointment comes near.
What exactly are you waiting for? Take a demo today and start your virtual clinic!