Clinics are crucial in our healthcare system, providing essential medical services to communities. However, managing the daily operations and ensuring top-notch patient care can be a daunting challenge. Overbooking, long waiting times, and billing issues are just a few obstacles clinics face. 
Enter KiviCare's dynamic dashboard—a beacon of hope for clinics seeking efficiency and improved patient satisfaction. This innovative solution is tailored to address these challenges and transform the way clinics operate. Imagine a world where appointments are seamlessly scheduled, patient records are easily accessible, and billing is hassle-free. With KiviCare's Complete clinic management solution, this world has become a reality.
But wait, there's more to this story. As we approach the holiday season, we have exciting news for clinics looking to enhance their operations while saving on costs. Cyber week sale 2023, the shopping extravaganza known for its incredible deals, is not limited to retail; clinics can now enjoy the benefits, too. We'll unravel the exclusive Cyber Week savings that await clinics, making this a truly special season.
Join us as we explore how KiviCare's dynamic dashboard can streamline clinics and make a real difference in the healthcare landscape. Let's dive into the details of these game-changing solutions and the irresistible Cyber week sale 2023 promotions that come with them.
Benefits of KiviCare's Dynamic Dashboard
Efficient Patient Management
Efficiency is at the core of any well-functioning clinic. KiviCare's dynamic dashboard excels, simplifying the intricate patient management process. From appointment scheduling to maintaining patient records and handling billing, this dashboard revolutionizes how clinics operate.
Imagine a bustling clinic that frequently struggled with double-booked appointments, leading to disgruntled patients and chaotic workdays for staff. KiviCare's dynamic dashboard stepped in, offering a user-friendly scheduling system. Clinics that adopted this feature reported significantly reduced scheduling errors and improved patient flow. As a result, these clinics now operate seamlessly, with more satisfied patients and efficient staff.
Enhanced Staff Productivity
Clinic staff have their hands full, juggling various administrative tasks. KiviCare's Clinic and Patient Management System provides a lifeline by optimizing staff duties and fostering better communication. It's all about reducing the administrative workload and empowering the team to focus on what truly matters—patient care.
Consider a clinic that struggled with staff coordination, leading to confusion in patient handovers and unnecessary delays. With the dashboard's built-in communication features, staff can easily share updates and coordinate patient care. The result? A more synchronized team that can dedicate more time to patient needs, enhancing overall clinic productivity.
Improved Patient Experience
Happy patients are loyal patients. KiviCare's dynamic dashboard ensures that patients have a smooth and convenient experience when they visit the clinic. From simplified check-ins to reduced waiting times and hassle-free billing, every aspect of the patient journey is improved.
Patients who have experienced clinics using KiviCare's dynamic dashboard consistently mention their satisfaction. Faster check-ins, shorter waiting times, and transparent billing make their visits stress-free. These positive patient experiences translate into greater loyalty and word-of-mouth referrals for the clinic.
Data-Driven Decision-Making
In healthcare, data is power. KiviCare's dynamic dashboard provides valuable insights and data that clinics can leverage for informed decision-making. With access to comprehensive data, clinics can tailor their operations to meet the ever-changing needs of their patients.
Consider a clinic that struggled to understand patient demographics and preferences. By analyzing data collected through the dashboard, the clinic identified trends and made informed decisions about adding specific services, changing opening hours, and tailoring marketing efforts. The results were evident: the clinic's growth and adaptability improved significantly, thanks to data-driven insights provided by the dynamic dashboard.
These are the pivotal aspects of how KiviCare's Clinic and Patient Management System EHR (Add-on) benefits clinics. It streamlines patient management, boosts staff productivity, enhances the patient experience, and empowers clinics with data-driven decision-making capabilities. The outcome is a clinic that thrives in efficiency and patient satisfaction.
Cyber Week Savings and Promotions
Exclusive Cyber Week Sale Offers
As Cyber Week Deals 2023 approaches, KiviCare has prepared exclusive offers that you won't want to miss. These promotions are designed to help clinics supercharge their operations while keeping costs in check.
Discounts and Special Offers:
KiviCare's Cyber week deals for Developers savings include substantial discounts on subscription plans and select add-on features. Whether you're a small clinic or a larger healthcare facility, these deals are tailored to suit your specific needs. From cost-effective monthly subscriptions to long-term commitments, there's a package for every clinic.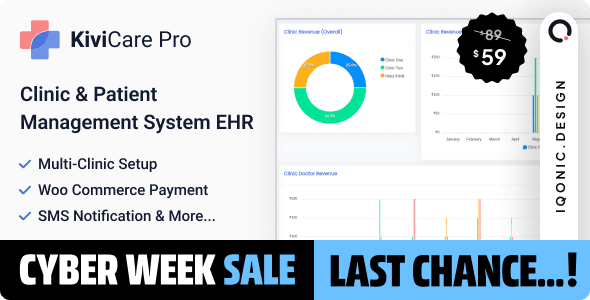 Cyber week sale 2023  is synonymous with limited-time offers, and these deals are no exception. The window of opportunity is brief, so it's essential to act promptly and take advantage of these savings while they last. The sooner clinics embrace these offers, the sooner they can benefit from the dynamic dashboard's advantages.
Getting in on these exclusive Cyber Week deals 2023  is straightforward, ensuring that clinics can quickly reap the benefits.
1. Visit the KiviCare Website:
Start by visiting KiviCare's official website. You'll find a dedicated Cyber Week sale 2023 section highlighting the available deals.
2. Choose the Right Plan:
Browse the discounted subscription plans and select the one that best suits your clinic's requirements. KiviCare offers various packages to accommodate clinics of all sizes.
3. Customize Your Dashboard:
Once you've chosen your plan, you can customize your dynamic dashboard with add-on features that align with your clinic's unique needs.
4. Checkout and Activate:
After tailoring your dashboard, proceed to the checkout. Make your payment to activate the dynamic dashboard, allowing you to start streamlining your clinic's operations and enhancing patient satisfaction.
Why Clinics Should Act Now
The importance of seizing this opportunity during KiviCare's Cyber week deals 2023 promotion cannot be overstated. Here's why clinics should act promptly:
KiviCare's dynamic dashboard is your ticket to a more efficient clinic. By availing of these Black Friday deals, clinics can unlock many features that streamline patient management, enhance staff productivity, and boost the overall patient experience.
The Cyber week sale 2023  discounts are a boon for clinic budgets. By taking advantage of these offers, clinics can optimize their spending while reaping the rewards of the dynamic dashboard's capabilities. Cost savings coupled with improved operations mean a healthier bottom line for clinics.
Don't miss this opportunity to elevate your clinic's operations and patient care. Act now and secure your exclusive cyber week sale 2023 offer with KiviCare. Your clinic's future success starts here.
Dr. Sarah Stevens, Family Clinic
"KiviCare's dynamic dashboard has transformed how we operate. Our appointment scheduling is now a breeze, and patient records are at our fingertips. Our staff can focus on patient care, not paperwork. Our patients are happier, and so are we."
John Smith, Hospital Administrator
"We noticed an instant boost in employee efficiency with KiviCare. Communication is seamless, and our team can access what they need quickly. We're committed to data-driven decision-making, and the dashboard has been invaluable."
KiviCare's dynamic dashboard is a game-changer for clinics, offering unparalleled efficiency, improved patient experience, and data-driven insights. Seize the opportunity this cyber week deals 2023 to supercharge your clinic while saving on costs.
Don't miss out on these exclusive cyber week sale 2023 . Contact KiviCare today to learn more or activate your dynamic dashboard now. Visit [KiviCare's website](https://www.kivicare.com) for details and to secure your Cyber week sale offer. Your clinic's future success begins here.