Did you know? Investments in virtual care or digital health care services have skyrocketed ever since the pandemic.
In fact! It's precisely 38x higher after the pandemic hit. Also, 17% of patients now rely on online appointment booking services rather than physically visiting the clinic to book a slot.
Who wants to wait in the long queue when you can just do a few clicks and visit the doctor at your convenience?
We're glad that you're here.
Take bookings at any time, help you manage appointments, and keep track of them. Also, summarise your patient's profile and their encounters in a more efficient way.
KiviCare the Complete Clinic Management Solution Will Help Your Clinic to Go Online!
Take bookings at any time, help you manage appointments, and keep track of them. Also, summarise your patient's profile and their encounters in a more efficient way.
Over this series, we'll discuss numerous benefits of EHR services, guides before beginning your online practice, and much more.
It's only a matter of time before your revenue levitates.
So grab a cup of hot beverage and relax, as we'll make it worth it for you!
What is KiviCare? How Can it Benefit Me as a Medical Practitioner?
Over 17% of patients prefer to go online and take consultation rather than physically visit the hospital and be prone to other diseases.
KiviCare helps you take your clinic online and cater to your patients more diligently and efficiently.
It is a meticulously designed clinic and patient management system in WordPress. KiviCare's complete clinic management solution is the most simple and cost-effective self-hosted EHR solution for growing practices.
FYI! KiviCare enables you to set up your online clinic in just 3 steps!
All this for FREE! Surprising, right?
Here are 8 astonishing features that'll surely boost your clinic's revenue.
8 Astonishing KiviCare Features
1. Simple Appointment Bookings: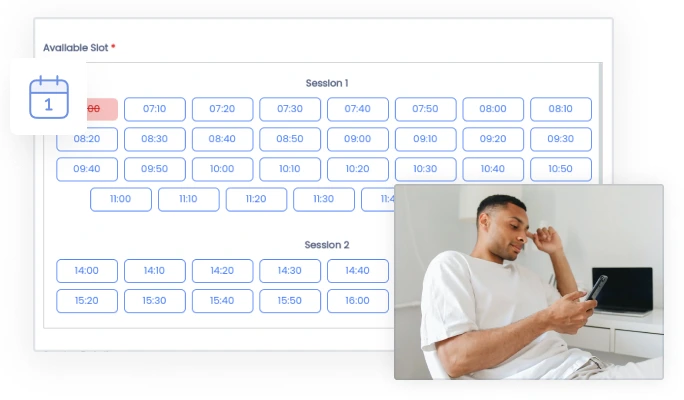 KiviCare allows your patients quickly and easily schedule, cancel and reschedule an appointment.
1. Simple Appointment Bookings:
While booking an appointment, all they have to do is to:
KiviCare doctor appointment plugin WordPress allows your patients quickly and easily schedule, cancel and reschedule an appointment.
And that's it, confirm your bookings and receive the notification!
And that's it, confirm your bookings and receive the notification!
It allows our doctors to set up their sessions. They fully control the calendar, time slots, and weekend availability. 
Moreover, the specified holiday feature will ensure their vacation time is added to their calendars.
Once the booking is confirmed, the patient will be notified and reminded via Email, SMS, and WhatsApp direct message.
Without this, you can never complete your virtual clinic. 
2. Intuitive Patients Portal
KiviCare with patient portal always goes the extra mile to serve its users better. It's designed in such a way that it helps your patients to book their appointments online, check past encounters or reports, and join video conferences with their doctor.
Doctors can monitor their patient's reports on the basis of their status. Also, they can decide what their plan of action is for patient care.
Patients have the feasibility to fill their basic information in their profiles. They can even change the password and profile image.
Not just that! Patient's can even upload a medical lab report to make the doctor more aware of the treatments done prior.
3. Streamlined Doctor Assessme
Doctors can focus on what matters.
As a medical practitioner, it's your prime responsibility to sincerely take note of all the key symptoms. All your observations must be stored in a particular place to make a wise decision.
As you may receive some lab reports that carry a significant amount of information for the patient, you can attach them through the portal.
At a glance, you can see all of your observations.
It is the most practical method for reducing the possibility of patient history being compromised. 
4. Easy and Faster Billing Options
I bet that'll be your favorite! It speeds up the revenue generation for the clinic and easily manages the payments to avoid confusion.
You can evaluate a patient's expected expense for the treatment, providing them better insight into the same.
Also, this online payment gateway feature makes it easier for the patients to pay the bills and efficiently manage the invoices.
Doctors can just go to the dashboard, feed the details, attach the documents, if any, and generate the bills. It will be notified to the patient for their due invoices. They can simply log in to the portal and pay their bills.
5. Advanced Telemed Addons
As mentioned earlier, after the pandemic hit, people avoided physical contact. Most medical practitioners monitor their patients virtually through video conferencing.
KiviCare the complete clinic management solution has brought a unique telemedicine system that is simple to use, even for non-tech users. 
You get a fully automated telemed integration. Through this, your patient can book a video conference appointment and join the same from the appointment dashboard.
They can pay the doctor via PayPal or any other gateway that supports WooCommerce.
As the name suggests, you can connect with your patient via zoom or Google meet.
Choose as per your preference!
6. Easily Manage Multiple Clinics
One unified system, multiple clinics. Are you operating multiple clinics at different locations?
No worries, you can easily manage them all through a single software. KiviCare has inbuilt capabilities to handle multiple branches of your clinics from one system.
Scale up the number of clinics and manage multiple of them in one dashboard. You can assign other doctors as well and start taking appointments.
Multiple roles, better framework!
You can assign different roles to a different doctor for better arrangements. KiviCare supports multiple roles like Doctor, Clinic Admin, Receptionist, and Super Admin.
Schedule the appointments by assigning the doctors as per their availability. 
7. One Goal, Multiple Languages.
Set up KiviCare in Arabic or any other language that requires RTL orientation. You can also easily switch between LTR and RTL modes.
Now, no barrier can stop you!
8. Manage Clinic Profiles
Wouldn't it be nice if all your insights were represented on a single screen? 
So, here we are with a dynamic dashboard that answers to all your queries. Manages all your revenue streams and provides an overall performance of all your clinics.
Doctors can monitor their clinic's revenue, overall and in detail. They can also filter by year and month.
Through these insights, you can come up with various strategies. 
Isn't it enough? There's a lot more waiting for you. 
We'd like to congratulate you on taking the first step toward a brighter future, and we appreciate you subscribing to this email!
KiviCare's Entire Bundle is Useful!
From booking to billing, everything's covered! You can manage your appointments and be available 24×7. Add and note the encounters of your patients. Check on the status of clinic session changes. Also, you can send emails with links that redirect to the dashboard
Run a modern-day practice and deliver a spectacular client experience for just $79.
Get lifetime access for a one-time payment! More than 30,000 downloads and 5-star customer reviews.