Greetings, noble alchemists of healthcare! Today, I extend a scroll of enchantment, inked in the potion of Iqonic's Mid-Year Sale. As the spell of summer embraces the land, the mystic druids at KiviCare have crafted magical software deals to transform your clinics into palaces of well-being.
As mid-year graces us with its presence, it's time for us to return the favor with our biggest sale of the season. This year, we've concocted the perfect remedy for your healthcare management challenges with KiviCare, your most comprehensive, yet astonishingly affordable, clinic and patient management system.
Hark, for a fantastical journey awaits as we brew potions of innovation at a price only wizards would dare dream of. With these concoctions, the hidden runes of healthcare shall become an open book of spells to you!
KiviCare 2.0 - A Portal to Enchanted Healthcare Realm!
Picture this: An ancient chamber with mysterious artifacts, where a crystal ball reveals the secrets of patient management. Behold, the KiviCare 2.0 –
Medical Clinic and Patient Management WordPress Solution!
Born in the cauldrons of digital wizardry, this potion was brewed for
$79
. But during
Iqonic's Mid-Year Sale
, it's been enchanted to an astonishing
$43!
This spell-binding
30% discount
awaits you in the land of magical
software deals.
Let your practice ascend to ethereal heights. KiviCare 2.0 –Medical Clinic WordPress Theme is the philosopher's stone turning leaden patient management woes into golden ease.
KiviCare Pro - The Mighty Grimoire of Add-ons
Brace thyself, for when you gaze into KiviCare Pro, KiviCare Pro gazes into thee. A tomes worth of power is packed in this EHR add-on. Initially encrypted for
$59
, the
Iqonic's Mid-Year Sale
graces thee with its power for just
$36
, a potion of
30% discount!
Web developers deals don't get more mystical than this.
With KiviCare Pro, you command the ancients' knowledge and craft ethereal bonds between healthcare dimensions.
Advantages of the KiviCare Theme: The Healthcare Enchanter!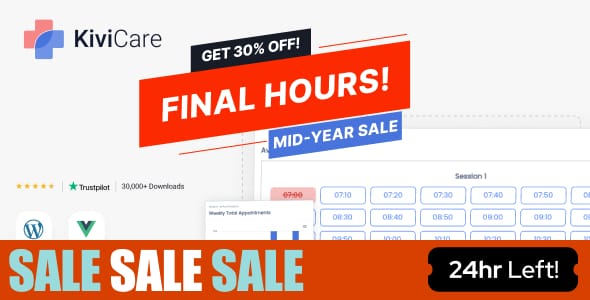 The Instant Incantation Scroll: KiviCare, built on the arcane arts of WordPress, ensures that your initiation into its magic is but a flick of a wand away.
Pocket-friendly like a Goblin's treasure pouch. It's not often that a goblin parts with its gold, but these software deals are a trove worth sharing!
The Fortress of Solitude:
KiviCare is your self-hosted sanctum, away from the prying eyes of third-party sorcerers. It's your very own enchanted castle.
A grimoire's worth of features ranging from spellbinding
appointment
scheduling to magical patient records, KiviCare is the wand that chooses the wizard!
The Developer's Astral Plane:
At Iqonic's Mid-Year Sale, the deals for developers forge a bridge to astral planes where mystical energies align. For the adepts of code and pixel, these are the best apps on sale for weaving the very fabric of healthcare space-time.
Protection against Technological Maladies:
The elixir of KiviCare is not just about powerful spells but also about shielding your enchanted realms from maladies and foul potions. The wards of KiviCare hold strong, guarding your domain from inefficiencies and disarray.
Iqonic's Mid-Year Conclave…
An ethereal gathering of sages under the ancient oak, this is a sanctuary for healthcare enchanters. A haven where we craft magical software deals. A feast for the senses where web developers' deals conjure powerful illusions of savings.
In the tapestry of healthcare, be the weaver, not the thread. Weave your magic with KiviCare, the canvas and the loom in the symphony of healing. Avail
Iqonic's Mid-Year Sale
to add enchanted melodies to your song of care, making it the most harmonious in all realms
The sorcerer's stone, the philosopher's quill, and the alchemist's beaker, all have a place in the epic tale of KiviCare. So, noble healthcare wizards, prepare thy potions, ready thy scrolls, and let the magic of KiviCare guide thee towards new healthcare horizons.
Remember, when the sands of time cease to fall, these prices shall return to their original form. Don't let the enchantments of this Mid-Year Sale fade away into the annals of forgotten lore. Turn thy script of destiny, pen thy saga, and let the healthcare revolution blossom.
Gather 'round, keepers of the mystical codes! Forge your spells, command the matrices, and step into the realm of KiviCare, where your incantations give life to the healthcare revolution. Let us conquer the healthcare cosmos, one enchantment at a time!
This mid-year, it's time to transform your Complete clinic management practices with KiviCare. So, step right into our digital storefront, and leave with a healthcare management system that will have your online clinic buzzing with efficiency and ease. And remember, the early bird gets the worm. So, don't wait until the last minute! These prices won't last forever, and the clock is ticking.